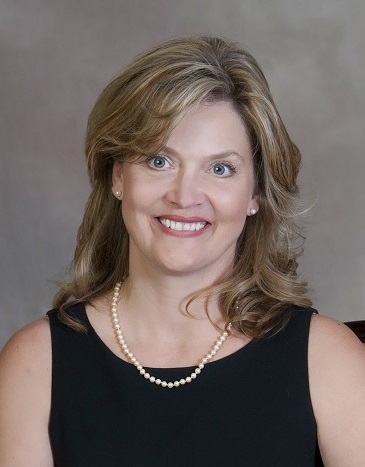 September 7, 2017
Representatives from The John W. Hammond Institute for Free Enterprise and the Plaster School of Business & Entrepreneurship (PSB&E) recently announced Tawni Hunt Ferrarini, Ph.D. has joined Lindenwood University as the new Robert W. Plaster Professor of Economic Education. She will be a member of the economics faculty in the PSB&E and a senior research fellow in the Hammond Institute. Dr. Ferrarini's appointment to Lindenwood's first named professorship was effective August 17.
In addition to her duties as a PSB&E faculty member, Ferrarini's role will be to work with the School of Education to create programs at Lindenwood University for training educators to teach economics and financial literacy, and improve economics education statewide.
Most recently, Ferrarini was the Sam M. Cohodas Professor at Northern Michigan University. She is the 2015 president of the National Association of Economic Educators, the inaugural recipient of the National Association of Economic Educator's Abbejean Kehler Award, beneficiary of the 2009 Michigan Economic Educator of the Year Award, and a 2009 Distinguished Faculty at Northern Michigan University.
Ferrarini's work for the Council on Economic Education and reputation as a dynamic workshop leader on both the use of technology in the classroom and the integration of economics and American history helped her earn these aforementioned awards. She was instrumental in helping formerly establish the Council on Economic Education – Japan and consults for the Korea Development Institute in Seoul. Ferrarini publishes in economic education, technology, and education journals. She earned her doctorate in economics from Washington University, where she studied under the 1993 Nobel Laureate Douglass C. North. Dr. Ferrarini is the co-author of the book Common Sense Economics, which was released in 2016.
This expansion of the Hammond Institute's work was made possible in part by continuing support from the Charles Koch Foundation.
"We are grateful for continued financial support from the Charles Koch Foundation and the Plaster Foundation to bolster academic research efforts here at Lindenwood and support our university's mission focusing on real experience for our students and real success for our graduates," said Lindenwood System President Michael Shonrock.

According to Dean Roger Ellis, Plaster School of Business & Entrepreneurship, having Dr. Ferrarini on board is something of a homecoming. "We're delighted to have her back in the St. Louis metro area, and more specifically on our team at Lindenwood. Tawni is an internationally known economist and an expert on teaching financial and economic literacy," he said.
"We are thrilled to be able to bring in someone as renowned as Dr. Ferrarini," said Howard Wall, director of the Hammond Institute. "Our Center for Economics and the Environment is already recognized as one of the top departments in Missouri for economics research, and the addition of Tawni will greatly strengthen our standing while bolstering economics education throughout the state."
The Charles Koch Foundation supports students and scholars through academic grants and educational initiatives at more than 300 universities and colleges across the country.