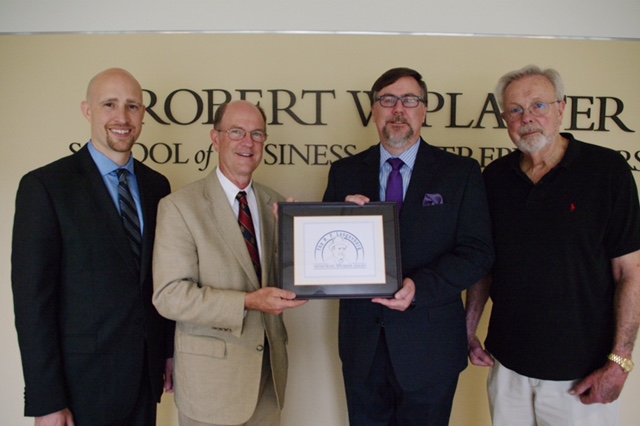 April 2, 2017
Dr. Howard J. Wall, director of the Hammond Institute for Free Enterprise at Lindenwood University, announced the institute has received a sizeable donation from The Discussion Club, Saint Louis' Premier Interactive Speaker Series.
According to Wall, The Discussion Club's leadership recently decided to disband as an organization but wanted to keep the legacy of its founder, Henry F. Langenberg, alive and well under the auspices of the Hammond Institute.
"We could not be more delighted to receive this generous gift, as in keeping with the group's tradition, we initially plan to host two speaker events per year," Wall said.
Dr. William Rogers, a research fellow in the Hammond Institute's Center for Economics and the Environment (CEE) and associate professor of economics at Lindenwood, previously served as president of The Discussion Club. He indicated this former nonprofit organization affiliated with the Bastiat Society was focused on providing its membership a wide variety of opportunities to hear leading intellectuals in an effort to engage in intellectual discussion and debate.
"Past speakers included Nobel Laureates, leading authors, public policy makers, political leaders, and scientists," Rogers said. "Not all of the speakers at our events were famous, of course, but all of the individuals presenting were accomplished speakers and leaders in their respective fields of interest. We intend to continue this spirited focus on public debate and discussion here in the Hammond Institute, under the broad subject umbrella of political economy."
Langenberg, who served as longtime president of The Discussion Club, placed a strong emphasis on advancing an understanding of the importance of liberty in all facets of life, especially with area youth.
"This is a tradition we're pleased to see the Hammond Institute continuing on our behalf," said Harry Langenberg (Henry's son). "We look forward to a line-up of speakers who will further discuss the moral, cultural, and institutional foundations of a free market society, along with debates surrounding timely social, political, and economic issues."
The H. F. Langenberg Memorial Speaker Series will begin in the fall of this year with the first event to take place in early October (details TBA). Evening sessions will be held at the Missouri Athletic Club's West Clubhouse, 1777 Des Peres Road, Town & Country, MO 63131 (http://www.mac-stl.org).