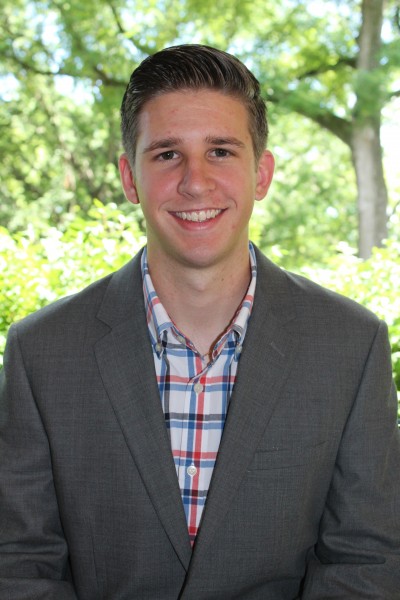 September 1, 2016
Dr. Howard J. Wall, director of the Hammond Institute for Free Enterprise at Lindenwood University, has announced that the Hammond Institute has partnered with The Constitution Project, also known as The Constitution Revolution, a centerpiece of the Supreme Court of Missouri's Civics Education Program. Wall also indicated Matthew M. Adams has been hired as an Administrative Assistant in charge of coordinating the statewide project's day-to-day operations. A recent graduate student of Lindenwood, Adams' appointment with the Hammond Institute was effective July 1.
For the past four years, high school students statewide have been learning how the U.S. Constitution affects the lives of people living in the United States through this program that offers hands-on experience in three professional fields.
Founded by Texas County Judge Doug Gaston, The Constitution Revolution is an educational program that allows high school students to follow a mock crime through the legal process from crime scene to trial, with the students acting as crime-scene investigators, lawyers and journalists. "As a result, we're trying to make sure our students have a greater understanding of and love for our country," he said. "I could not be more delighted that Lindenwood will be partnering with us on this project and that Matt Adams will ensure we continue to teach students about the Constitution in a way that is fun, meaningful and hands-on."
Adams received a bachelor of science in computer information systems from Lindenwood University in May 2015. He also minored in business administration and interactive media & web design and received consecutive honors on the Dean's List since fall 2012. He completed his master of business administration from Lindenwood in early July. Adams has served in the capacity of graduate assistant at Lindenwood since August 2015, most recently working in the Plaster School of Business & Entrepreneurship. He also directs the development of interactive web-based applications for Divelop, LLC and has run his own web/graphic design consulting firm since January 2010.
"It is an honor to join the Hammond Institute at my alma mater," said Adams. "It truly is a dream come true. I will diligently apply all of my energy to reinforce the confidence placed in me by Dr. Wall and Dr. Douchant, plus the many others who have coached, supported and promoted me over my time at Lindenwood. I look forward to this amazing opportunity to contribute to the continued success and future growth of The Constitution Revolution and the Hammond Institute."
According to Dr. Wall, including The Constitution Revolution as an initiative of the Hammond Institute ties in perfectly with other focus areas, including Criminal Justice Reform, given individual constitutional rights constrain police and courts, and empower journalists. "This program provides an excellent opportunity to cultivate local community members with experience in the various fields represented to serve as student mentors," he said. "Likewise, we're extremely fortunate to have Matt on the team to work directly with Judge Gaston and ensure the program has a solid presence statewide, along with Dr. Darren Marhanka, associate professor, who will serve in the capacity of faculty advisor and also provide academic input for the program."
After a mentorship period that lasts approximately one month, students participate first in regional competitions and then in a statewide competition. On the day of the competition, organizers set up a mock crime scene for students to investigate. Students serve in the capacity of police officers and journalists, and eventually, the mock case goes to trial, where it is argued by student lawyers, using information collected by student law enforcement officers.
According to Dr. Rachel Douchant, director of the Hammond Institute's Liberty & Ethics Center, the program exercise shows students how the Constitution affects professions represented in the project. "Students are also taught what can happen in countries with different legal systems or countries where there is no due process," she said.
In the fall of 2015, some 16 schools in Missouri participated in the Constitution project. This past spring, the project conducted a pilot for a college-level version of the program at Lindenwood. On the St. Charles campus, it was an interdisciplinary class taught jointly by three professors, one in the criminal justice field, one in the journalism field and one in the political science field.
"As a philosopher, I always think the notion of rights is very abstract," said Douchant, "but when you do something concretely like this, you put flesh on the bones of that concept."
Missouri Supreme Court Civic Education Committee is the main sponsor of the project. Co-sponsors include the Missouri Highway Patrol, the Missouri Press Association and the Missouri Broadcaster Association. For more information, visit the Missouri Supreme Court online.