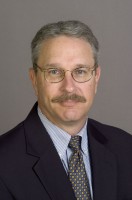 August 12, 2016
Dr. Howard J. Wall, director of the Hammond Institute for Free Enterprise at Lindenwood University in St. Charles, recently announced that Rik W. Hafer, Ph.D. has assumed leadership responsibility for the Center for Economics and the Environment (CEE).
Dr. Hafer's appointment is effective August 11. He assumes responsibility for the center, which was previously managed by Dr. Wall in addition to his duties as overall director of the Hammond Institute. In addition to his directorship and research appointment, Hafer joins the faculty of Lindenwood University's Plaster School of Business & Entrepreneurship as a professor of economics.
Upon receiving a Ph.D. in economics from Virginia Tech, Hafer joined the research department of the Federal Reserve Bank of St. Louis. After rising to Research Officer, Hafer left the Fed in 1989 to become professor of economics at Southern Illinois University in Edwardsville, IL. While at SIUE he held several positions, including director of the Office of Economic Education and chair of the Department of Economics and Finance. In 2007, Hafer was promoted to Distinguished Research Professor of Economics and Finance.
Hafer has taught at several universities, including Washington University—St. Louis and Erasmus University in Rotterdam, The Netherlands. He also has been an instructor in the Stonier Graduate School of Banking, served as a consultant to the Central Bank of the Philippines, was a Research Fellow with the Institute of Urban Research at SIUE, and served as a Visiting Scholar with the Federal Reserve Banks of Atlanta and St. Louis. He currently is a research fellow with the Show-Me Institute in St. Louis.
Hafer has published over 100 academic articles, several books on monetary policy and financial markets, and a principles of economics text. His research has covered many fields other than monetary economics, including the link between economic freedom and economic growth, and more recently the role that education plays in explaining why some countries and states grow faster than others. He also has written over 150 commentaries which have appeared in the Wall Street Journal, the St. Louis Post-Dispatch, and the St. Louis Business Journal.
"Moving to Lindenwood University and the Hammond Institute is a wonderful opportunity," said Hafer. "I look forward to trying to unravel some of the mysteries of economics that my students face in these exciting times. As director of the Center for Economics and the Environment, I am eager to work closely with the business community, learning and discussing the issues they face every day."
According to Dr. Wall, having Hafer on board uniquely complements the teaching and research focus in the Hammond Institute. "Founded in 2002," he said, "the CEE focuses its research on applying economic principles to policy challenges. In addition to our longstanding attention to the natural environment, the CEE has expanded its focus to include policy-oriented research on the business and economic environment.
"We are delighted to have Rik join the CEE, which already ranks among Missouri's top departments for economics research. Rik's impressive record and leadership will help us achieve great things for the university."