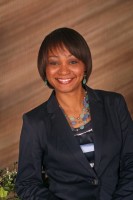 June 1, 2016
Hammond Institute Awards First Grant in Support of Criminal Justice Reform Andrea S. Boyles, Ph.D., division chair of social and behavioral sciences at Lindenwood University, recently received a $5,000 grant from the Hammond Institute for Free Enterprise. Dr. Boyles, associate professor of criminal justice, teaches at Lindenwood's campus in Belleville, Ill.
In an effort to reform the criminal justice system or at least provide empirical data that may benefit the process, Boyles plans to continue her efforts to persistently capture the voices and perceptions of black citizens with regards to policing, especially in the St. Louis area.
"Ideally," said Boyles, "my research goal is to account for and explain the everyday experiences of disadvantaged blacks–to make readily available information reflecting black citizens' attitudes, ideas, and actions in circumventing perceivably inequitable policing, court proceedings, and/or criminal justice supervision."
According to Howard J. Wall, director of the Hammond Institute for Free Enterprise, the Hammond Institute has become increasingly involved in criminal justice reform. "
As a result, we thought it would be advantageous to collect all the new and continuing activities in this area under one umbrella," he said. "Given funding received from the Charles Koch Foundation in 2015, we now have a unique opportunity expand upon our existing programs, as well as initiate new ones. Dr. Boyle's research is a perfect example of how we're able to support reform efforts across the region."
The title of Boyles' grant proposal is "How Do Blacks Police Themselves?" Current rhetoric posits black citizens as more focused on addressing and eradicating police brutality and contrarily, less concerned with reducing crime rates and, more specifically, violence within their communities.
"Consequently, this project seeks to better understand if and how blacks police themselves," Boyles said. "In other words, the aim is to gain insight into how blacks feel about neighborhood crime and what actions they take, if any, in preventing or curbing it versus perceivably aggressive tactics often employed by local law enforcement."
Boyles went on to say that as a result of persisting crime rates, St. Louis has been characterized as one of America's most violent cities.
"Hence, somewhere between contentious black citizen-criminal justice system encounters, subsequent civil unrest throughout the region, and persisting crime rates in marginalized, poverty-stricken communities, St. Louis garners national attention," she said. "In fact, St. Louis represents an ideal location for exploring and implementing criminal justice reform through ongoing examination and analysis of both black citizen/police encounters as well as black-on-black neighborhood crime prevention." I'm so appreciative of receiving this grant opportunity from the Hammond Institute, as this funding will enable me to collect the necessary data that perhaps may help us gain tangible information for improving policing in marginalized communities as understood, trusted and implemented by black citizens."