New in 2022! Introducing....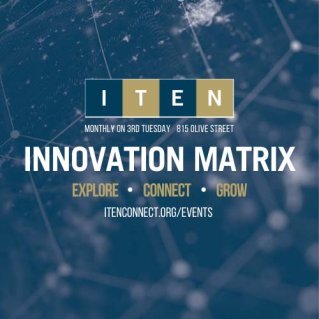 Details for Tuesday, AUGUST 16
Expert Roundtable (Virtual Only)
4 - 5 p.m.

The labor market is tight for all companies. Come join us and learn about some tools early-stage companies can use to attract the talent they need to start and grow. This session will cover various benefits that can be offered as well as types of incentive compensation high growth companies can use when looking to compete in the talent market.
Presented by Hush Blackwell Attorney: Jordan Bergkamp, Partner
Focal Point
5:30 - 6:30 p.m.
After a Brief Summer Break, Focal Point will Return in SEPTEMBER....details coming soon!
---
In addition to our public event, Focal Point, INNOVATION MATRIX offers a packed day of programming opportunities for ITEN Members including:
New Company Onboarding
Eureka Ideation Essentials | Lean Canvas, Traction Roadmap, Elevator Pitch
Mock Angel pitch sessions
Founder2Founder
Networking with peers, mentors, and the community
Check out the member calendar in Union for more details!
Not yet an ITEN company? Click the Join as a Startup button above to start the process!
---
Past Events
YouTube - ITEN STL
---
Women Entrepreneurship Week 2021
Lindenwood University participated in the 8th Annual Women Entrepreneurship Week! From October 18-22, we highlighted and honored local women entrepreneurs by hosting two speaking engagements. Both events were hybrid, meaning you could join us on the Lindenwood University campus or virtually!

October 19, 2021

Recipient of the coveted Barbecue Heroine prize, Amy Mills leads 17th Street Barbecue as well as runs OnCue Consulting, the only barbecue business consultancy in the world, offering seminars and training in the culinary techniques behind great barbecue.

---

October 21, 2021

From the #1 Amazon Best Selling Book, Owning Your G.R.I.T., will feature a panel discussion on some of the 40 incredible women authors sharing each of their journey's and how they harnessed the power of Growth, Resilience, Intention, and Tenacity!

Featured Panelists:
---
Member Events
ITEN hosts events for our community members, such as Founder2Founder, Pitch Practice and Corporate Showcases. Please visit UNION for the latest event calendar and to register.
Regional Events
We are a founding member and co-organizer of events that are open to the public.

---