MA offered in Traditional and Hybrid formats
Earning a Master of Arts in Mass Communications
Earn a Master of Arts degree in Mass Communications at Lindenwood University. The MA in Mass Communications will provide you with a firm foundation in critical theories of communication, as well as practical application and problem solving. You will have the ability to select the area of emphasis that best aligns with your academic and professional interests and objectives. If you intend to apply communication knowledge and skills in the workplace, the practical and theoretical knowledge woven throughout the curriculum can facilitate the achievement of a broad range of personal and professional goals. Lindenwood offers the opportunity to tailor your programs of study to meet your interests and objectives.
The master's in mass communications is offered in a hybrid environment, combining online courses with traditional classroom courses. Earning the MA degree in communications with an emphasis in broadcast or mass communication requires 36 credit hours and will give you the chance to study topics in-depth, such as multiplatform reporting, television news production, production for television, and non-linear video editing.
One-Year Fast Track Option
Students now have the opportunity to earn a Master of Arts degree in Mass Communications in just one year, with our new fast track program. This flexible program requires 36 credit hours, allowing you to combine online with traditional classroom courses in a schedule that works for you.
Please note, in order to be considered for the Fast Track option students must possess an undergraduate degree in the area of specialization or a related field with extensive coursework; have a 3.5 GPA in their major coursework or submit GRE test results.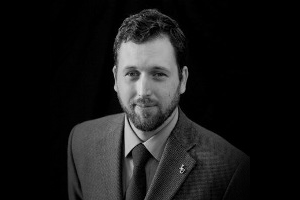 Interview with James Hutson, PhD
Transcript of www.mastersincommunications.com interview with James Hutson, Ph.D. - Professor of Art and Design at Lindenwood University.

Learn More
Joe Weber, MFA
Department Head - Art, Design, and Media
W. Travis McMaken, Ph.D.
Associate Dean, College of Arts and Humanities