Learn to change the world and impact the future!
Bachelor of Arts (BA) offered in On-campus formats.
As a political science major you will learn skills that open numerous career paths, including the legal profession, government service, political campaigns, non-profit organizations, and businesses. You will have the opportunity to learn about how governments work, about the US Constitution, and campaigns, as well as public policy and its creation. You will also have opportunities to develop relationships with experienced political science faculty through small class sizes and an emphasis on mentoring. We will teach you how to succeed and how to market your skills and knowledge to employers or graduate programs as you embark on your quest to change the world.
This major will introduce you to government structures, systems, and policy processes as well as political philosophies and ideologies. The program offers courses in a variety of areas of political science including public administration, American constitutional law, and many more. These courses will help you understand how political systems work and will prepare you for success in graduate school, law school, government, or the private sector.
Our faculty will help connect you with internships and meaningful community service. You might choose to work on campaigns, participate in non-partisan voter drives, or help raise awareness about an issue that matters to you. Campus student organizations offer opportunities for you to be part of pre-election debates, to volunteer in a variety of ways, and to make friends who share your interests and passions.
Political Science is an excellent second major for those looking to make a connection between their primary area of interest and the public sector or government service. From the business major who might want to one day be a lobbyist to the science major who wants to drive science policy from outside the government every degree can be enhanced with a political science major attached.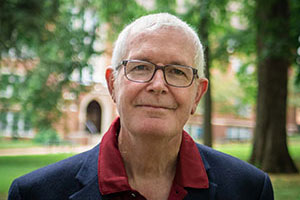 Thinking Aloud Podcast
Join the Thinking Aloud podcast for civil and engaging conversations that cover topics far and wide, including politics, public policy, history, literature, philosophy, the arts, and all those things that make us human. This podcast is hosted by Dr. Don Heidenreich, Professor of History at the Lindenwood University College of Arts and Humanities, and regular contributor to KMOX radio.

Thinking Aloud Podcast
W. Travis McMaken, Ph.D.
Associate Dean, College of Arts and Humanities