We invite you to visit the College of Arts and Humanities, which is located in the magnificent J. Scheidegger Center for the Arts. Students who choose Lindenwood University's College of Arts and Humanities have the extraordinary opportunity to work and study at the J. Scheidegger Center for the Arts. With state-of-the-art equipment unmatched by any other Midwestern university, the center features two professionally equipped theaters, an art gallery for exhibiting traditional and multimedia artwork, dance studios, music studios, traditional classrooms, scene and costume shops, and multiple computer labs.
The Lindenwood Theater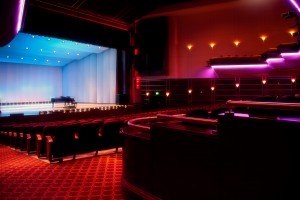 This traditional proscenium space boasts a 1,200-seat auditorium and a 110-by-66-foot stage with a 72-foot grid and 68 line sets. Elegant and intimate in its design, the theater has one of the largest and most sophisticated stages in the region. The Lindenwood main stage readily accommodates Lindenwood University productions and large scale national and Broadway tours, as well as concerts, world renowned dance, and celebrity appearances.
The Emerson Black Box Theater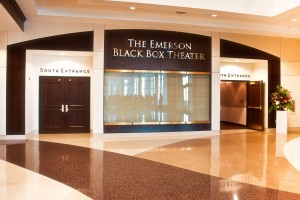 The Emerson Black Box Theater is a flexible 65-foot square space designed to put the audience close to the action. While the size of the audience can be adjusted to suit the productions requirements, one thing that never changes is the intimate relationship between the audience and the performers. The Emerson Black Box Theater can be configured for theater in the round, as a traditional theater, or anything in between. Generally seating between 150 and 180 audience members, the Emerson Black Box Theater provides for more intimate gatherings in music, dance, drama, and experimental theater.
Emily Jones
Department Head - Performing Arts
W. Travis McMaken, Ph.D.
Associate Dean, College of Arts and Humanities