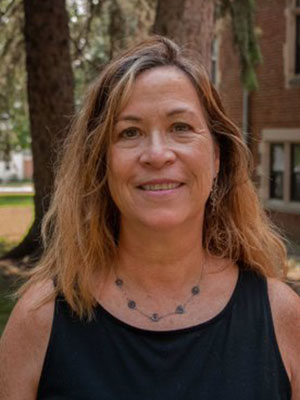 Jeanie Thies
Professor, Political Science
McCluer Hall 123
(636) 949-4689
jtheis@lindenwood.edu
---
Biographical Information
From 2012-2016, Dr. Thies was the Lindenwood University dean of institutional research overseeing the university's assessment process. She currently teaches in the Political Science Department and the Master in Public Administration program. She has taught classes on the topics of American government, policy and government research, corrections, criminal psychology, victimology, criminology, comparative politics, political psychology, wrongful convictions, and program evaluation.
Dr. Thies formerly served on the St. Charles Probation and Parole Citizens' Advisory Board and the governing board for the Women's Safe House in St. Louis, Mo. She was also a member of a Missouri legislative task force appointed to develop policies for sex offender management, and of numerous task forces and committee.
Publications
Zlatic, Joe and Jeanie Thies. Fall/Winter 2016-2017. "Correctional Reform in Red States." Missouri Policy Journal. Published by Lindenwood University.
Stein, Michael, Dana Klar, and Jeanie Thies. 2014. Chapter in One to Many: Hope and the Lessons of Perspective, peer-reviewed chapter, titled "Hope Matters: From One to Many: Hope and the Lessons of Perspective", Published by National Association of Social Work.
Thies, Jeanie. Fall/Winter 2013-2014. "Time and Money: An examination of crime, sentencing, and corrections budgeting issues." Missouri Policy Journal. Published by Lindenwood University.
Hill, Janice and Jeanie Thies. 2010. "Program Theory and Logic Model to Address the Co-Occurrence of Domestic Violence and Child Maltreatment."Evaluation and Program Planning. Volume 33, (4).
Hill, Janice and Jeanie Thies. 2007. "Missouri Task Force on Children's Justice:Implementation assessment of the Dominic James Memorial Foster Care Reform Act of 2004." Report to Missouri State Legislature, commissioned study.
Thies, Jeanie. 2001. "The 'Big House' in a Small Town: The Economic and Social Impacts of a Correctional Facility on its Host Community." in The Justice Professional. Volume 14(2).
Thies, Jeanie and Janice Hill, 2000. "The Law Enforcement Foundation of Illinois' Police and Children Together Program". Command. Volume 10, Fall edition.
Thies, Jeanie. 2000. "Prisons and host communities" in Corrections Today. April.
Rau-Sawicki, Donna, Beatrice Schaefer, and Jeanie Thies. 1999. "Predicting Successful Outcomes for Serious and Chronic Juvenile Offenders in Residential Placement" in Juvenile and Family Court Journal. Volume 50 (1).
Thies, Jeanie. 1996. "Demystifying treatment" in Creative Therapies and Programs in Corrections, American Correctional Association.
Dr. Barbara Hosto-Marti
Department Head - Human Culture and Society
W. Travis McMaken, Ph.D.
Associate Dean, College of Arts and Humanities