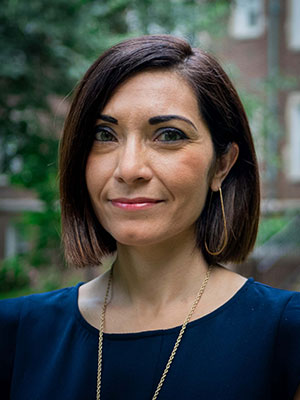 Gabriela Romero-Ghiretti
Associate Professor, Spanish
Library and Academic Resources Center 011B
(636) 627-2508
gromero-ghiretti@lindenwood.edu
---
Biographical Information
Dr. Gabriela Romero-Ghiretti is an associate professor of Spanish, supervisor of the Foreign Languages Center, and chair of the Foreign Languages Department at Lindenwood University. Dr. Romero-Ghiretti obtained her B.A. in English and teacher training at National University of Cuyo, in Mendoza, Argentina. She then attended Washington University in St. Louis, Mo, where she earned her M.A. in Spanish, a graduate certificate in language instruction, and her Ph.D. in Hispanic languages and literatures. She has extensive teaching experience both domestically and abroad designing and teaching courses on language, literature, and culture, including seminars on the Spanish-American short story, the novel of the Mexican Revolution, and the role of women in Hispanic societies, among others. Her research interests include Latin American women writers; women and gender studies; avant-garde literature; gender and modernity, and language acquisition through literature. As a University citizen, she works to support diversity and multiculturalism. She particularly supports international students who work as tutors in the Foreign Languages Lab, training them for the job market and serving as a reference to employers. She has published in peer-reviewed journals and received awards in teaching and writing. She regularly presents papers in conferences domestically and abroad.
Academic Interests
LatinX identity
Diversity and multiculturalism
Latin American women writers
Women and gender studies
Gender and modernity
Language acquisition through literature
Composition and academic writing
Courses Taught
Dr. Romero-Ghiretti has taught the following courses:
English Composition I
Elementary Spanish I and II
Intermediate Spanish I and II
Advanced Oral Expression and Grammar
Advanced Written Expression and Grammar
Latin American Culture and Civilization
Masterpieces of Spanish American Literature
Masterpieces of Peninsular Spanish Literature
The Novel of the Mexican Revolution
The Spanish-American Short Story
The Role of Women in Hispanic Societies
Latin American Modern Cities
Hispanic (Mis)Representations
LatinX Literature
Gabriela Romero-Ghiretti, Ph.D.
Department Head - Modern Languages
W. Travis McMaken, Ph.D.
Associate Dean, College of Arts and Humanities