Welcome to Lindenwood University! We are excited that your student has chosen to share their educational journey with us. As parents and families of a Lindenwood University student, we want you to know that we consider you to be a partner in your child's success. This means, you are a part of our Lindenwood family, too! The Office of First-Year Programs is dedicated to providing your student with the resources and one-on-one support needed to succeed.
Lindenwood Talk Tuesdays
Please join us this summer for Lindenwood Talk Tuesdays Family and Supporter conversations. During these events you will get the opportunity to meet Lindenwood Faculty, Staff, and Students. You will learn everything you need to know to help your student get a great start to their new experience as a Lindenwood Lion!
Tuesday, August 9
6 - 7 p.m.: "Tips for Families and Supporters" – Harlan Cohen - Harlan Cohen is The New York Times bestselling author of The Naked Roommate series and six other titles. Harlan is a speaker who helps thousands of students, parents, educators, and professionals every year.
FAMILY & SUPPORTERS RSVP TODAY FOR THIS EVENT!
Please feel free to peruse the rest of the First-Year Programs pages to find information regarding important University events, Tutoring and Counseling resources, FYP staff contact information, and more!
Should you have any questions or concerns, please do not hesitate to contact our office.
Welcome to Lindenwood University!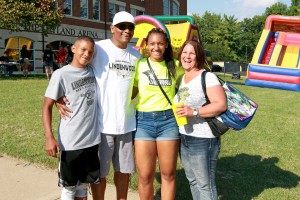 First-Year Programs
Library and Academic Resources Center, Suite 229A
Justin Barton
Director, First-Year Programs